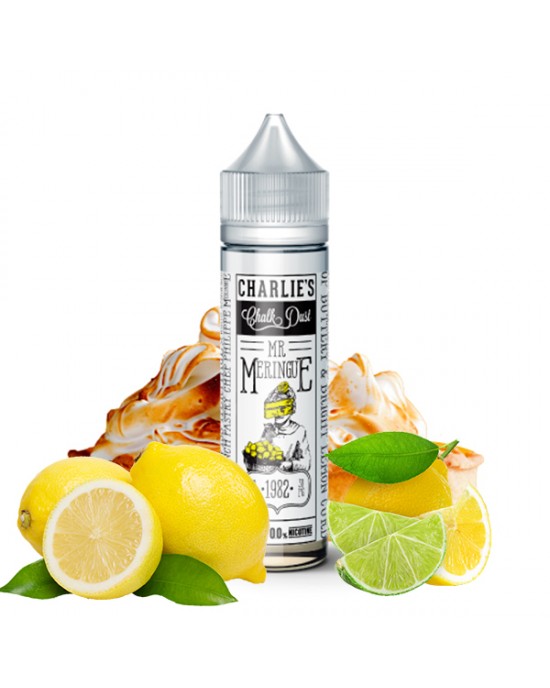 Out Of Stock
Charlie's Chalk Dust -Mr.Meringue-Lemon Meringue Pie 60ml
What makes Mr. Meringue e Juice by Meringue & The Family so great? Meet Mr. Meringue, the head of the Meringue family!

This delightful flavor features a warm lemon tart, stuffed with freshly grated Meyer lemon zest, sweet and slightly tart. This succulent lemon curd is folded into a bed of delicate and flaky pie crust, offering a rich and buttery taste that is sure to delight your vape taste buds.
To top off this sweet and tart delight, light and fluffy toasted meringue sits prettily atop this flawless dessert and gives soft nips of flavor in each and every puff! Your vape taste buds will dance the meringue as the sweet flavor of this e liquid sashays down to the classic flavor of sweet lemon meringue pie! Are you vape taste buds watering yet?
Give your clouds a true dessert delight, featuring a freshly baked lemon tart, decorated with Meyer lemon zest, and topped with a slightly torched meringue for full-bodied lemon meringue flavor!
Meringue & The Family needs no introduction; for flavor that is authentic as well as unique, puff on a decadent after-dinner dessert and satisfy your insatiable dessert cloud cravings! Snag a bottle of Mr. Meringue e Juice by Meringue & The Family today and unleash your clouds to join their cloud brothers in the sky!
Availability:

Out Of Stock

Product Code::

Lemon Meringue Pie

Weight:

103.00g

SKU:

Lemon Meringue Pie

Charlie's Chalk Dust
Products Sold: 775
Product Views: 1500