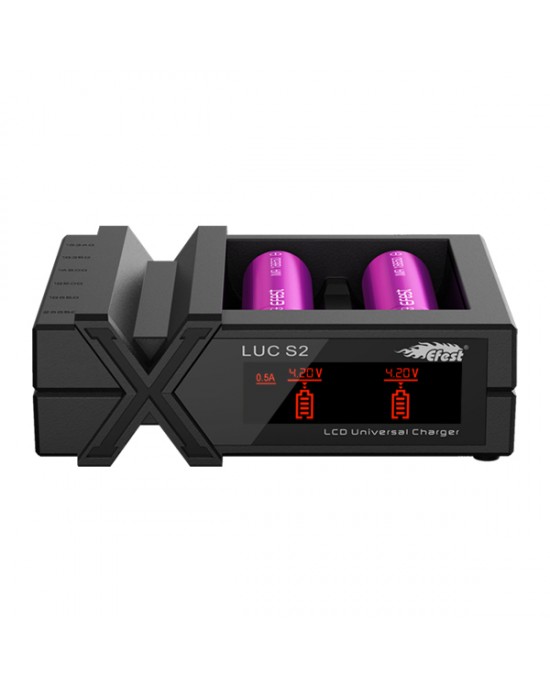 -40 %
Efest Luc S2 with AU plug Power bank feature
Efest LUC S2 Smart Charger features

With strong compatibility,high efficiency and intelligence screen, Efest Luc S2, specially built for lithium battery, is easy and convenient to operate.
Easily monitor the individual batteries' capacity and
voltage
, as well as
the progress of charging
a battery.
Each of the two bays displays this information independently, thereby allowing to charge various battery sizes, capacities, and chemistry simultaneously.
Automatically detect the battery type, and adjust the discharge current accordingly. This allows provides you with the versatility of conveniently charging various batteries without any need to manually set specific parameters.
The Efest LUC S2 Multi-Function Smart Charger includes a car adapter, which permits you to charge your batteries while on the road. Simply insert the adapter into any standard cigarette lighter port, and the charger will function normally. This is particularly useful while on long drives and road trips.
Another great feature of the Efest LUC S2 Smart Charger is its included USB port. This port affords you the ability to charge virtually electronic devices that supports a USB charging cable. You can charge items, such as your mobile phone, tablet, digital camera, MP3 player, etc. This wonderful feature further adds to the versatility of this spectacular device.
Mini LCD screen displays precise voltage and battery capacity level
Each charging channel has independent display of charge status
Automatically adjust discharge current to charge batteries of different sizes
Over-discharge Protection
Reverse Polarity Protection.
Automatically stops when batteries are fully charged
DC Wide Voltage (12-24V) Charging Mode
Dual battery bays can charge 10440, 16340, 14500, 14650, 17500, 17670, 18350, 18490, 18500, 18650, 18700, 22650, 26500 and 26650 lithium batteries (no spacers needed)
1A USB Output: The charger can be used to charge most USB devices, such as mobile phone, iPad, MP3, Mp4, PSP etc.
The LUC charger can charge at 0.5A, 1.0A or 2.0A current.
0.5A for 10440, 16340, 14500, 18350, 18500 and 17500 batteries
or 1.0A/2.0A for 17670, 18650, 18700, 26500, 26650 and 22650 batteries. In 1000mA mode, the LUC will charge batteries at about twice the speed of the Trustfire Multifunctional Charger TR-001 (500mA)
Availability:

In Stock

Product Code::

Efest Luc S2

Weight:

0.00kg

SKU:

Efest Luc S2

Efest
Products Sold: 85
Product Views: 2062