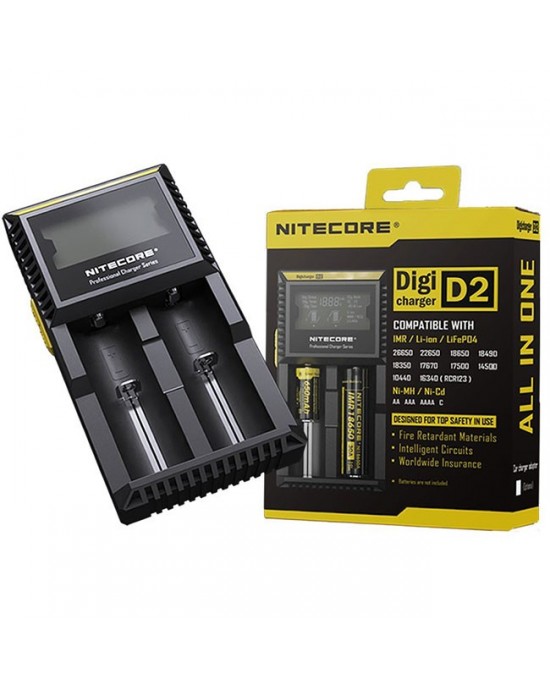 Nitecore D2 charger with AU PLUG
InputAC 100~240V 50/60Hz 0.25A(max)
DC 12V 1A
Output
4.2V ±1% / 3.7V ±1% / 1.48V ±1%
500mA x 2
Compatible withLi-ion/IMR/LiFePO4:
26650, 22650, 18650, 17670, 18490, 17500, 18350, 16340(RCR123), 14500, 10440
Ni-MH / Ni-Cd:
AA, AAA, AAAA, C
INTELLIGENT ULTRA-COMPATIBLE DIGICHAEGER
High compatibility :operates well with batteries of almost all types (IMR,Li-ion,Ni-MH/Ni-Cd and LiFePo4)
compatibility:operates
COMPACT AND COMPATIBLE
Able to accommodate two batteries of varying sizes and chemistries. Compatible with IMR,LiFePO4,Li-ion,Ni-MH/Ni-Cd batteries. Is able to intelligetly and safely charge small capacity batteries.
Charges the following sizes and chemistries:
26650 26650 18650 18350
18490 18500 17670 17500
14500 10400 16340 (RCR123)
INTELLIGENT AUTO-DETECT FUNCTION
Integrated microprocessor automatically identifies battery types and selects appropriate charging voltage and current Automatically detects battery status and selects the appropriate charge mode (CC,CV and -dV/dt)
OPTIMAL DESIGN FOR NI-MH/NI-CD BATTERIES
-dV/dt charging program for Ni-MH/Ni-Cd batteries detects battery status and determines appropriate charging and
termination voltage.This feature offers maximum power without the risk of overcharging.
REVOLUTIONARY UPGRADE FOR IMR BATTERIES
With extremely low internal resistance. IMR batteries may be overcharged and lead to safety issues when charged in regular Li-on battery chargers. To address this problem,the D2 incorporates an optimized IMR charging system that is able to monitor the entire charging process,ensuring end voltage is always within safe limits which ultimately helps extend battery life.
A

Availability:

In Stock

Product Code::

Nitecore D2

Weight:

310.00g

SKU:

Nitecore D2

Nitecore
Products Sold: 1343
Product Views: 4049