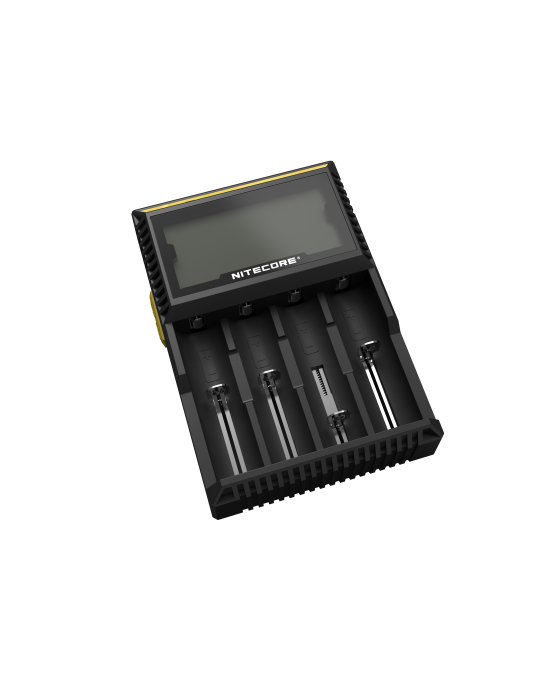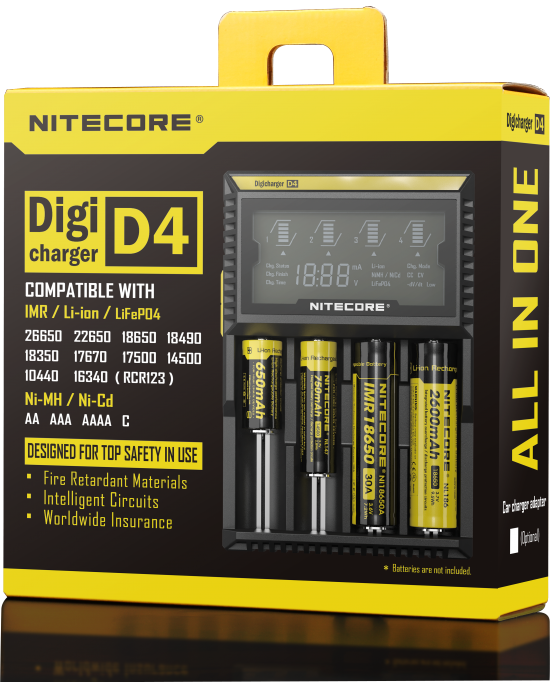 Nitecore D4 charger with AU PLUG
Packs Compatibility and Power


Able to accommodate two batteries of varying sizes and chemistries. Compatible with IMR, LiFePO4, Li-ion, Ni-
MH/Ni-Cd batteries. It is also able to intelligently and safely charge small capacity batteries.
Intelligent Auto-Detect Function
Integrated microprocessor automatically identifies battery types and selects appropriate charging voltage and
current. Automatically detects battery status and selects the appropriate charge mode.
Optimally Designed for NI-MH/NI-CD Batteries
-dV/dt charging program for Ni-MH/Ni-cd battery detects battery status and determines appropriate charging and termination voltage.
This feature offers maximum power without the risk of overcharging.
Revolutionary Upgrade for IMR Batteries
With extremely low internal resistance, IMR batteries may be overcharged and lead to safety issues when charged in regular Li-ion battery chargers. To address this problem, the i2 incorporates an optimized IMR charging system that is able to monitor the entire charging process, ensuring end voltage is always within safe limits which ultimately helps extend battery life.
Optimized LiFePO4 Charging Mode
Hold the side MODE button for more than two seconds will active LiFePO4 charging mode indicated by "LiFePO4"
appearing on the digital display.
Optimized for Small Capacity Batteries
Press and hold side button MODE for more than one second during charging until "Low" appears on the right to indicate entry into low current charging mode.
Batteries of small capacity (such as 10440, 16340 and AA) can easily overheat, have shortened lifespan or cause safety issues powered by regular chargers due to excessive charging current. To address this problem, Nitecore introduces the low current charging program when developing D4.
Highly Visible and Intuitive Liquid Crystal Display
A crystallin LCD display built on the sleek black surface presents the charging progress, battery type, voltage and more in highly visible, high contrast black and white. Simply press the side MODE button to select a desired reading.
No Detail Escapes
The D4 allows you to know everything about the charging process clearly and precisely from charging voltage, charging current and elapsed charging time all the way to charging mode and battery type.
Always Keep You in the Loop
When charging is complete, all five battery indicator bars stop flashing and illuminate steadily while "Chg.Finish" appears on the digital display.
Thoughtful Overnight Charging Function
Hold the SLOT button for more than one second in any state will turn off the LCD backlight to eliminate disturbance at night. To turn the backlight back on, simply hold the SLOT button for more than one second.
Availability:

In Stock

Product Code::

Nitecore D4

Weight:

410.00g

SKU:

Nitecore D4

Nitecore
Products Sold: 2420
Product Views: 2477